Stories
---
Upcoming 15 Association Events
Get out and play with your brothers! Mark your calendars for these upcoming 15 Association Play (and other) Events:
Sat Mar 28 7pm – Midnight — Play Party — CANCELLED!
Sun Apr 5 3pm – 6pm — Beer Bust — CANCELLED!
Sat Apr 18 7pm – Midnight — Associates Weekend Play Party — CANCELLED!
Sun Apr 19 2pm – 6pm — Associates Weekend Sunday Play Party — CANCELLED!
---
Message from the Chairman
Last weekend was definitely one for the history books. What a great way to celebrate our 40th Anniversary. I heard nothing but positive things from our members and the rest of the community that witnessed our celebration. Every year around this time after our big weekends, we have guests who become inspired to become members and join us. We should welcome new brothers, as they fill out their membership forms and determine sponsors.

What I was the most excited about is the amount of folks that attended our various social events during the weekend. I think we need to look anew at hosting more social outings for our club outside of the big weekends — hopefully you do as well. For the Spring months, there's a great party at the end of March that I hope you can all attend. As well the following weekend is our first Beer Bust of the year at the SF Eagle on April 5th.

See you all soon.

Eric See
Chairman, The 15 Association





---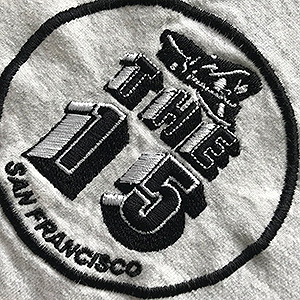 T-Shirts
Embroidered club logo on t-shirts can be requested by e-mail: tazpuppy15@gmail.com. Colors in stock include black, white, red, yellow and grey. Other colors can be obtained by request — please allow extra time. T-Shirts are $15 each.
---
Member News
Leather Cultural District
Once there were 55 leather & LGBTQ businesses, bars and clubs in SOMA; now there are just 12. It is our goal to preserve and expand the leather and LGBTQ culture in the area. For more information see: www.sfleatherdistrict.com or visit our Facebook page: Leather and LGBTQ Cultural District; www.facebook.com/sflcd.org
Land Use Committee Meeting — Mar 10, 7pm SF Eagle
Communications Committee Meeting — Mar 12, 7pm. Video/phone.
Board of Directors Meeting — Mar 18, 6pm – 8pm, SF LGBT Center, 1800 Market St, Room 204.
Town Hall Meeting — Mar 25, 6pm – 8pm, SF LGBT Center, 1800 Market St, Rainbow Room.
The Leather Journal patreon
A Patreon was created to support The Leather Journal. The Leather Journal is read worldwide in print and online. News of BDSM, Leather, Kink and Fetish have been documented for over 30 years. Please consider donating to help support this great resource. https://www.patreon.com/theleatherjournal
Theleatherjournal.com
Support the SF Catalyst!
About SF Catalyst:
SF Catalyst is a community-run educational and social space in the South of Market neighborhood of San Francisco. The 2000+ sq. ft. space is available for use by groups, organizations, and individuals for events that are in alignment with the mission of The San Francisco Bay Area Leather Alliance, an all-volunteer-run non-profit organization, which is to create a welcoming and supportive environment for members of the SF Bay Area Leather, Fetish, Kink, & Motorcycling communities. The space has been through a few incarnations and has been an important part of the community for over ten years!
SF Catalyst is also available for private bookings to groups and individuals. Email reservations@sfcatalyst.org to inquire.
More information and online donations: https://www.patreon.com/sfcatalyst
Facebook
Connect on Facebook! Current event and Play Party details, join our FB Secret group here: https://www.facebook.com/groups/15secret/
---
Other News and Events
Other events of interest to 15 Association members:
---
Got News? We want it!
Do you have News or Events our members would have interest in or enjoy outside the Dungeon?! Whether you are producing an event or just attending one others may not be aware and wish to participate. Our Community has much to offer and a variety of tastes so don't hesitate to e-mail by the 25th of the month for publication in the following month's issue. Inquisitor editor: Tyler Fong tazpuppy15@gmail.com.