About Us
We Are...
A social and sexual fraternity for men who engage in BDSM.
The longest-standing gay male BDSM Association in the western USA.
Active in the San Francisco BDSM community with play parties, an annual run (Boot Camp), social events and charitable fund raising.
Premier BDSM Players who mentor by example.
Safe, Sane and Consensual.
A volunteer Association with over 175 members, coordinated by a Fraternal Committee.
Open to members and invited guests with a government-issued male ID who are at least 21 years of age.
---
Memorial and Play for Master Tim Manni
A Memorial Service for Master Timothy Manni will be held Sunday, May 31, 2015, from 2:00-6:00 p.m. at Alchemy.  Food will be provided. The first hour is for remembrances from friends and loved ones. The dungeon will open for play following, since that is how Tim would want to celebrate his life.
A donation of $20 per person is suggested with the proceeds going to cover final expenses (with no one turned away for lack of funds) If you wish to speak at the Memorial Service, please contact Jeff Garner.
---
Bunks Available for Boot Camp
Due to cancellations, a few bunks have opened up for Boot Camp. If you want one, reserve it now before they are taken.
Note that you need to be a Member, or be sponsored by a member to attend BootCamp.
---
Congratulations to our 2015 SF Pride Leather Marshals, Disciple and Rio!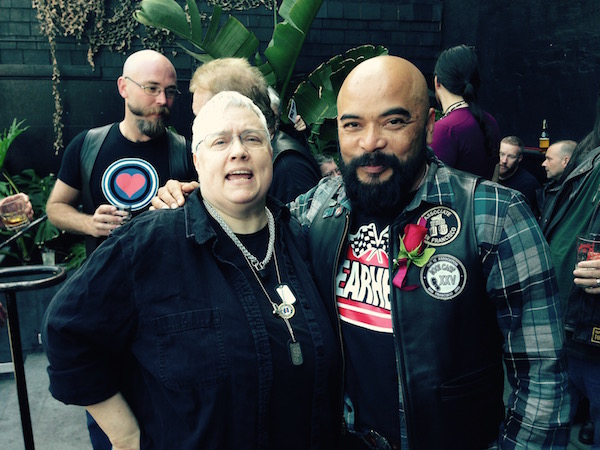 Associate member Ron "Disciple" Valenzuela and Rio Spooner were voted to be the 2015 Leather Marshals in San Francisco's Pride Parade.
---
Dore and Folsom Parties Ticket sales
We love our new party venue, Alchemy. However, it does have a lower capacity than our previous venue, and we want our members and guests to have sufficient space for hot/safe play at our two biggest parties of the year.
Advance Tickets will be required for the July (Dore Alley) and September (Folsom St Fair) Play Parties. No tickets will be available at the door.
Members will be able to buy a ticket for themselves and up to one guest. Tickets will be non-refundable, but will be transferrable (once) to another member. All guests must already be in our system (members can put someone onto the door list by using the ADD GUEST to Door List page) – there will be no on-site registration or ticket sales.
Members will be able to purchase July Dore Alley Party tickets for themselves and up to one guest starting June 1st. Guests will be able to purchase July tickets starting July 1st (provided tickets are still available).
Members will be able to purchase September Folsom St. Fair Party tickets for themselves and up to one guest starting August 1st. Guests will be able to purchase September tickets starting September 1st (provided tickets are still available).
Both of these parties are expected to sell out, so note the above dates in your calendar.
---
The Inquisitor - May 2015
May 8th, 2015
BootCamp Almost Sold Out! Only a Few Camp Sites Left
Boot Camp registrations near maximum capacity - Boot Camp is full for Doubles and Bunk rooms and has only a few camping spaces left! If you haven't yet registered and are planning to be there, register now before registrations close. Be sure to let your favorite boys, bottoms, tops, daddies, pups or whoever you hope to play with know that the few slots left will be gone soon.
15 Associate, Disciple in the running for SF Pride Parade Leather Marshal - Vote Saturday, May 9, 2PM at the SF Eagle.
Associate member Ron Valenzuela/Disciple is a nominee for SF Pride Parade Leather Marshal this year. Come join Disciple, other club brothers, and community members for an afternoon of camaraderie, drinks, laughs, & cigars while you put in your vote for this year's Leather Pride Marshals at the Eagle. The election is set for May 9, 2PM at the Eagle, 398 12th Street San Francisco. Everyone who shows up gets a vote. Voting usually takes place right at 2PM so be early, socialize, and exercise your vote on Saturday. Nominee bios are at www.sfleather.org.
April Associates Weekend a Success – First Saturday Party at Alchemy
Associates weekend a success as The 15's first regular Saturday night party debuted at Alchemy. Associates gathered for an informal bar night at the SF Eagle on Friday evening, the Saturday night party, a brunch Sunday morning and a well attended play party on Sunday afternoon.
Annual Beer Bust on May 3 receives rave reviews for the food
Kudos to the chef who provided the pulled pork sandwiches at The 15 Association's annual Beer Bust at The San Francisco Eagle on Sunday May 3. It was well attended and raised funds for the club and the club charities. Thank you to all you hot men who were there.
Volunteer in Leather Alley at San Francisco Pride Parade
If your feet aren't quite up for marching in the Leather Contingent of the Pride Parade, or if you're just looking for some involvement with our Leather Community for Pride that can be shorter than the parade, Leather Alley would like to invite all members of the 15 Association to show off their skills demoing at the kinkiest part of the Pride Street Fair... Leather Alley!
For those who haven't been, Leather Alley is a project of the Leather Alliance. A full block of the Street Fair dedicated to demonstrating BDSM skills and an area for leathermen and leatherwomen to socialize. The demo area is organized by the SFCitadel. And we'd be honored to see the 15 Association represented by demo teams, tops, and bottoms.
Demos are organized in hour long slots starting at 10am and continuing on until 5pm and reservations are required to make sure that equipment is available when you need it and that a wide variety of demos are happening each hour.
Well over a thousand people visit Leather Alley each year and thousands have been raised to help support local leather related charities supported by the Leather Alliance. If you'd like to be a part of the excitement, please contact Bob Hughes, the demo coordinator for Leather Alley at sfomaster@yahoo.com
SWAT-A-MILE Challenge BACK in 2015
The Swat-A-Mile Challenge is back says 15 member, Eric Crow. As some of you know, Eric was a Roadie for AIDS LifeCycle in 2013, when he created the "Swat-A-Mile" challenge. AIDS LifeCycle is a 545 mile ride from San Francisco to Los Angeles. It takes place in June (the week before Bootcamp). He successfully reached a minimum of $545 in donations from 15 members, so he promised a special spanking/paddling scene at Bootcamp, with 545 swats. Eric says, "It was quite a sight, I tell ya, and I was giggling by the end of it, even with a paddle broken over my ass at the end of the scene."
This year, however, Eric is raising the stakes a bit: He wants to raise $2 per swat. So if he receives more than $1,090 in donations from the 15, he will submit to this scene again, and along with the extra money raised comes a more intense scene. One that you will not want to miss. He is currently at $645, and if just five more members donate $100 each, Eric will reach his goal and the fun will be had by all those who donate. Your donation is tax-deductible and it can be made in installments of just $10 a month over ten months. Please visit Eric's page and make your donation today! He says, "Thank you very much for your support, and I look forward to having a very red bottom at the end to show for this." Eric Crow, Roadie #8502
NOTE: Eric is currently at $873 in donations, which leaves $227 standing between him and a sore butt. As planned from the start, Eric will be making a $100 donation himself, leaving just $127 in donations to reach the goal. Eric says, "Please help me reach my goal. Thanks!"
The 15 Association – Information for you:
The donation for our parties in 2015 is: $15 for members, $20 for guests. $10 off for volunteering and free if you do clean-up at the end of the evening. Contact Volunteer Coordinator Jonathan Domash for more information. No one is turned away for lack of funds.
Note to our Guests: First-time guests must arrive at parties with a member, or request an invitation via our website. However, if you have been to a 15 Association party in the last year, you are automatically in our system and do not have to be invited to come to our regularly scheduled parties. Just show up with your ID!
Interested in Prospecting to join the club? Come to parties, play hard, volunteer, and get to know the Associates and the guys on the Fraternal Committee, especially but not only Frank Stelter, the Membership Chair. He can tell you all about it!
Want to know more about how the club runs? Have you got something to say? Or are you just kinky for meetings? Fraternal Committee meetings are open to all members, plus prospects and interested others, and usually happen the same afternoon as the parties at 3:00PM but check with a current fraternal. The time and location of fraternal meetings does change from time-to-time as necessary.
Other News:
Worn Out West will take 10% off for anyone who mentions The 15 Association!
San Francisco Leathermen's Discussion Group is an independent, all-volunteer, not-for-profit organization of men serving the educational needs of the BDSM/Leather community. With a few of our own club's members on their board, we have a lot of intersection.
For those in the Leather Community who find themselves in dire financial straits due to injury or illness, San Francisco Bay Area Leather Alliance sponsors a fund to help out with emergency expenses. If you need financial help to pay bills due to a serious injury or chronic/life threatening illness, please contact the Leather Alliance to see if you qualify for help. Al Parso is the 15 Association's representative on the Leather Alliance board. He can be contacted through our website.
The 15 Association supports the Leather Archives and Museum in Chicago. This is an important institution that is dedicated to preserving the histories of our communities, clubs and scenes. No trip to Chicago is complete without a visit!
Got News? We want it. Events of interest to our membership or brief articles about our members or our community are welcome. Not sure? Send it to Al Parso (MrACL2014@yahoo.com.)
Events of Interest to members of The 15 Association
Saturday
May 9th, 2pm
VOTE for SF Pride Parade Leather Marshal
The Eagle (12th & Harrison in San Francisco)
Associate member Ron Valenzuela/Disciple is a nominee
Sunday
May 17th, 3pm-6pm
IML Send-off Party for Fraternal Member & Newsletter Editor Al Parso
The World Famous Turf Club
22519 Main Street, Hayward, CA (4 blks from Hayward BART Station)
Thursday -
Sunday
May 21st - 24th
International Mr Leather Contest in Chicago
Thursday -
Sunday
July 9th - 12th
GearUp
Sunday
July 26th
Dore Alley Street Fair
Sunday
Sept 27th
Folsom Street Fair
---
BootCamp XXVII Registration now open!
January 4th, 2015
We are very proud to invite you to the 27th Anniversary Boot Camp, Wednesday, June 10 to Sunday, June 14, 2015. Yes, you read that right, by popular demand we have kept the extra day!
Please take a few minutes now to review the following points. Since we anticipate very high demand for Boot Camp yet again, only 15 Association Member applications will be processed during January. Priority guest applications will be processed beginning February 1, 2015. Register by going to BootCamp Registration in the "Members & Guests" menu.
Rates: Members: $425 for camping; $475 for bunk rooms; or, $525 for double rooms.
Non-Members: $470 for camping; $520 for bunk rooms; or, $570 for double rooms.
If you will be arriving Thursday instead of Wednesday, subtract $50 for lodging or $25 for camping.
Applications, reserved space, and dates: We will not be accepting money or reservations unless they are accompanied by an appropriately filled-out original application. Your reservation is not transferable. Also, you may name priority guest(s) only if you are applying to attend. We will not process your guest's application until we have received yours. If by February 25 there is still space available, applications for additional guests will be sent out. All applications will be processed in the order received. Once space is filled we will maintain a waiting list.
Name on application and release: A signed release is an integral part of the application. The name on the application and the release must be the same and must be a legal name (which we will handle as confidential information). We will not process applications that do not include a release containing your original signature. Please note that this is a new release form. Read the release carefully (both front and back), as well as the "Policy and Behavior at SM Events."
Payment and cancellations: To simplify our record keeping, you are requested to submit full payment with your application. If this is not possible, you must include the minimum deposit noted on the enclosed application, or your application will not be processed. Full payment must be received by April 15, or your reservation will be canceled. Cancellations received by April 30 will be entitled to a full refund; those received by May 15 will be entitled to a 50% refund; no refunds after that date.
Financial help: The Seibert-Click fund provides for a limited number of Boot Camp scholarships and partial scholarships. If you cannot afford to pay the full amount of the fee, send what you can now and include a letter of application for help from the Seibert-Click fund. Your letter will be forwarded to the Seibert-Click Fund Committee. Space, if available, will be reserved for you pending the decision of the Fund Committee. The Seibert-Click Fund Committee plans to consider additional applications in the order received.
Special needs: You must state in your application any dietary, mobility, or other concerns that may affect the planning of meals and housing. We will do our best to accommodate your needs. Please tell us as soon as possible; last-minute requests may not be fulfilled.
Transportation: Transportation to and from the run site is the responsibility of each man attending the run. We will make an effort to find rides for those who need them. If you need a ride and we can't find one for you, we will try to put you in contact with other men in the same situation, so that you can share car rentals.
Set up/tear down: If you would like to volunteer to help with Set Up (June 8-10) or Tear Down (June 14), you will be able to eligible to attend a special pre-run Dungeon Christening Party Tuesday, June 9. In order to attend this event, you must contact me (msterjeffrey@comcast.net) to register for either Set Up or Tear Down prior to the run. Both Set Up and Tear Down are hard work, but we have a lot of fun while we do it, and the pre-run party is a blast. Space on the Set Up and Tear Down crews is limited.
Run Directory: Since it was so popular last year, we will be handing out a Run Directory to all Boot Camp 27 Participants. Your application has spaces for you to select what of your information (if any) you wish to have in the Run Directory.
The past six Boot Camps (2008-2014) have been our most successful ever. We hope that you will be able to participate in Boot Camp 27 and make it even better.
---