Stories
---
Upcoming 15 Association Play Events
Get out and play with your brothers! Mark your calendars for these upcoming 15 Association Play Events:
Tue August 1 – Advance Tickets go on sale for Members for the Pre-Folsom Party.
Sat August 26 7pm – Midnight — Play Party with Wrestling Demo at Catalyst. Demo is at 7:30pm; Doors close at 10pm.
Fri September 1 – Advance Tickets go on sale for Guests for the Pre-Folsom Party.
Sat September 23 6pm – Midnight — Pre-Folsom Play Party at Catalyst. Doors close at 10pm.
Sat October 28 7pm – Midnight — Play Party at Catalyst. Doors close at 10pm.
---
Message from the Chairman

Hello Brothers,

WOW, what an amazing Dore weekend! Many of our club brothers from near and far remarked at the energy at the party. Some said it was the best party we've had in years. There were a wide variety of kinks, ages, and types of play represented. Every square inch was being used in some twisted way. Many people remarked at our use of ambassadors, and we will continue that practice and work to make them even more visible and approachable.

We followed up our party with a huge outdoor dungeon at the Up Your Alley fair on Sunday. Taking up almost a quarter of a block with crosses, tables and spanking benches, there was non-stop play for our brothers as well as a place for all of the fair-goers. Our booth has become a real staple of the fair, and Folsom Street Events is vary pleased with us bringing visible, proudly out in the open, BDSM to Dore Alley.

Probably the most important part of the weekend is the number of men who are becoming interested in joining our club based on the play and brotherhood we demonstrated. Thank you to everyone who showed our guests a good time!

This month, for those who aren't on an August vacation, our party will have a return of the SF Grapplers demonstrating some very HOT wrestling in the dungeon. There will still be plenty of places to play, if you aren't distracted by hot sweaty men in wrestling singlets.

Get your ticket now for The 15 Association's Pre-Folsom Play Party! Members are encouraged to purchase their ticket now for The 15 Association's Saturday Play Party! Tickets are Pre-Sale ONLY, no tickets will be sold at the door and are limited in number. We sold out for Dore Alley Saturday, which is a smaller event. Guests will have an opportunity to purchase their tickets as of Sept 1st.





---
Wrestling Demo at the August Party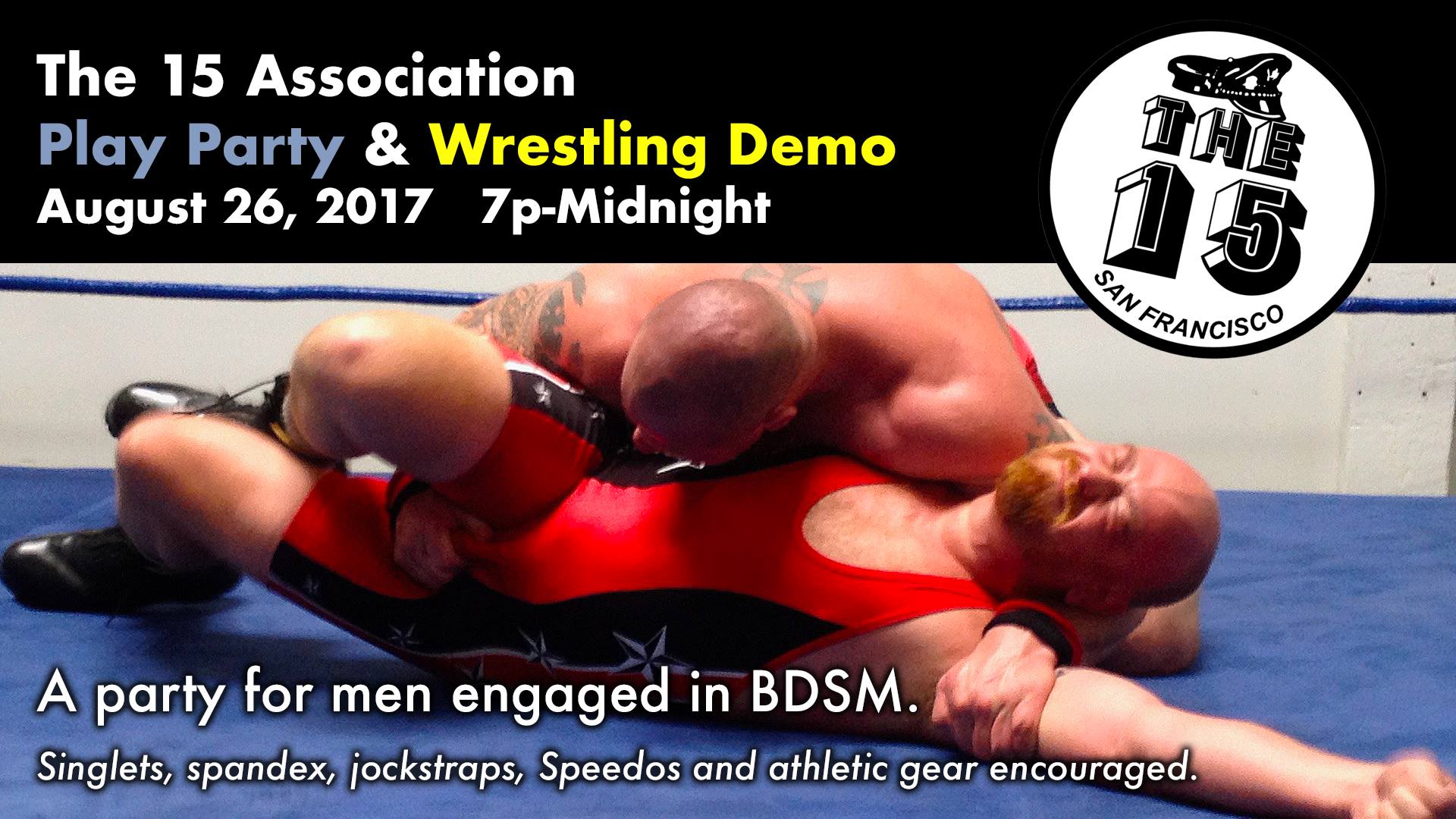 SF Grapplers are coming to The 15 Association Play Party to show the fun of wrestling. Whether competitive, sensual, or erotic, the body contact and strain of muscle-vs.-muscle can leave the question of who is Dominant and who is submissive to be determined on the mats! Bring your singlet, speedo, spandex, or jockstrap, or any sports gear, really, and discover the fun of wrestling.
Not interested in wrestling? We will have all of our usual filthy, sadistic activities going on too!
More information about the men's wrestling group SF Grapplers can be found at facebook.com/sfgrapplers.
---
Dore Alley Sunday
Extra THANK YOU to....
Associate Member Bob W.
Associate Member Brian B.
Guest Lawson M.
These men put in extra time and effort above and beyond to make The 15 Association outdoor dungeon a huge success. We had hot men with hot play, with the utmost integrity in regards to safe play! Hope to see you back next year!
---
Other News and Events
Mark Your Calendar
Other events of interest to 15 Association members and guests:
Fri August 18 – Sun August 20 — Leathermen's Discussion Group (LDG) Fetish Weekend: sfldg.org for details
Sun August 27 4pm – 8pm — Golden Gate Guards Beer Bust at Lonestar Saloon, 1354 Harrison St.
Sat September 16 6pm – 8pm — Alden Spafford Progressive Dinner, leatheralliance.org
Sun September 17 10am – 3pm — LeatherWalk, leatheralliance.org
Sun September 24 11am – 5pm — Folsom Street Fair
San Francisco Leathermen's Discussion Group
San Francisco Leathermen's Discussion Group is an independent, all-volunteer, not-for-profit organization of men serving the educational needs of the BDSM/Leather community. With a few of our own club's members on their board, we have a lot of intersection. Go to http://www.sfldg.org/ for more information on their events.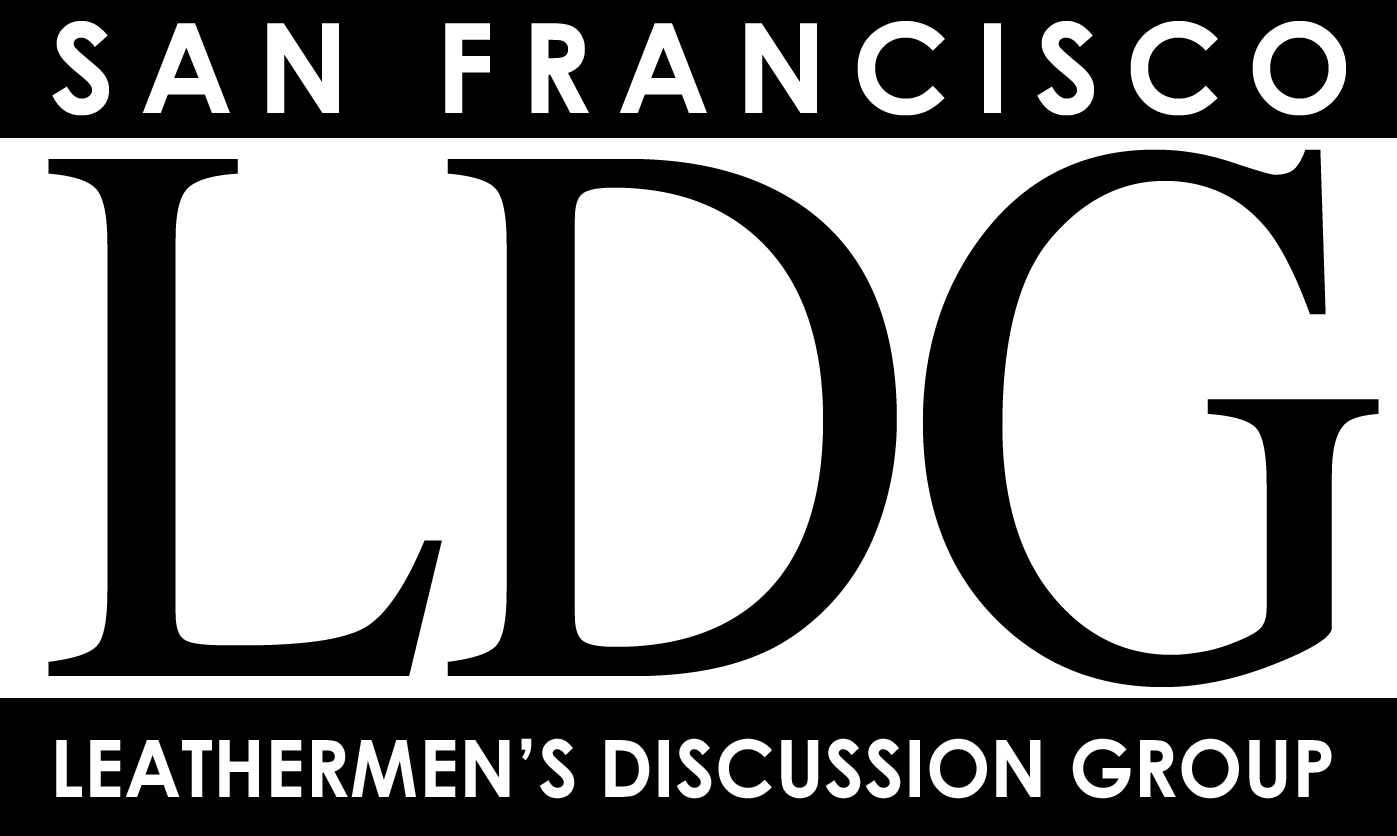 San Francisco Bay Area Leather Alliance
For those in the Leather Community who find themselves in dire financial straits due to injury or illness, San Francisco Bay Area Leather Alliance sponsors a fund to help out with emergency expenses. If you need financial help to pay bills due to a serious injury or chronic/life threatening illness, please contact the Leather Alliance to see if you qualify for help. Al Parso is the 15 Association's representative on the Leather Alliance board. He can be contacted through The 15 Association website.

Got News? We want it!
News of interest to The 15 Association membership or brief articles about our members or our community are welcome. Not sure? Send it anyhow. Email Tyler Fong, the editor, at tazpuppy@sbcglobal.net. Newsletter materials are due by the 25th of the month for the following month's newsletter.