Stories
---
Upcoming 15 Association Play Events
Get out and play with your brothers! Mark your calendars for these upcoming 15 Association Play Events:
Sun July 9 1pm-4pm — Dungeon Monitor (DM) Training at Catalyst.
Tues July 25 8pm-10pm — MagneKink 2017 at Strut.
Sat July 29 6pm-Midnight — Dore Play Party at Catalyst. Doors close at 10pm.
Sun July 30 11am-5pm — Dore Alley Fair and The 15 Association Outdoor Playspace
Sat August 26 7pm-Midnight — Play Party at Catalyst. Doors close at 10pm.
Always check the website for the most current information and Calendar for future events.
---
Bootcamp XXIX — In Review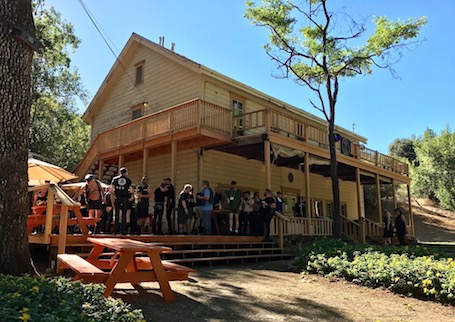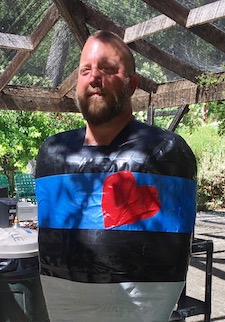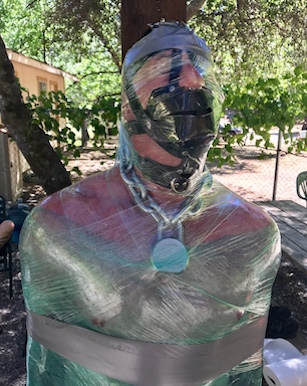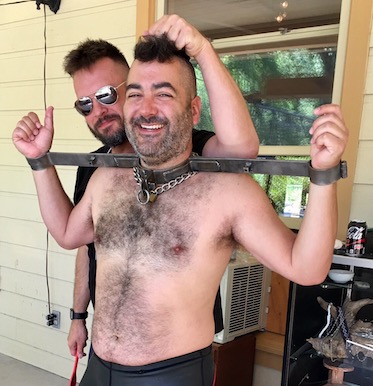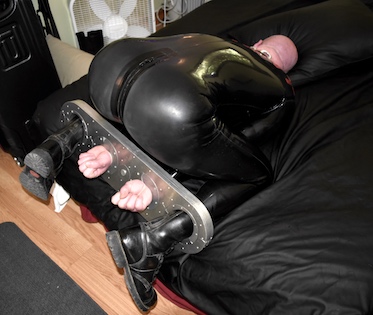 For those of you who couldn't attend BootCamp this year, I'm sure that you've heard the reports through the leather grapevine. This was one of our best runs ever. The play, the camaraderie, new friends made, and old friendships re-connected. Everyone was singing the praises of Jeff Garner, our beloved Bootcamp coordinator. Next year is one NOT to be missed, as it will be the 30th BootCamp and reservations will go fast.
---
Leather Alley @ SF Pride with The 15 Association
This year our club set up a demo cross station at Leather Alley at SF Pride. Leather Alley is a fantastic fundraiser for the Bay Area Leather Alliance, of which we are a part. Thanks go out to all of the club brothers who played, helped set up, and who marched in the leather contingent. We are a very visible presence, not only within our leather community, but also the festivities at SF pride. A special thanks goes out to Christopher Wood for helping to organize our presence at Leather Alley.
---
Dungeon Monitor Training
DM training this Sunday 7/9/2017 at our home dungeon: Catalyst
Have you ever wanted to know how you could be a dungeon monitor? Now's your chance. Trained by our Fraternal Committee, you will be able to help the club monitor our parties and make sure everything runs smoothly. For those of you who have already gone through our DM training, this is a good refresher; plus, you can learn all there is to know about the Catalyst space as well. RSVP appreciated: Facebook - "The 15 Association" OR jdomash@comcast.net
---
Dore Alley is July 30
There's always a lot to do on the week of Dore Alley and this year is no exception.
Thursday night come hang out with the men of BLUF at Don Ramon's for the annual BLUF dinner. This year our club is one of the beneficiaries so aside from meeting each other in our leathers and uniforms, you're helping out the club. You can get more details at a www.blufsf.com.
Saturday is our always popular Dore Eve Play Party. Remember, you need to purchase tickets for the party, and you need to get them NOW as it will sell out, just go to our website for details.
At the Fair on Sunday, we will once again be hosting the largest open-air play space. We need many hands to help us set up, staff, and tear down our booth. Please sign up for one of our volunteer slots throughout the day on our website.
---
T-shirts – Now embroidered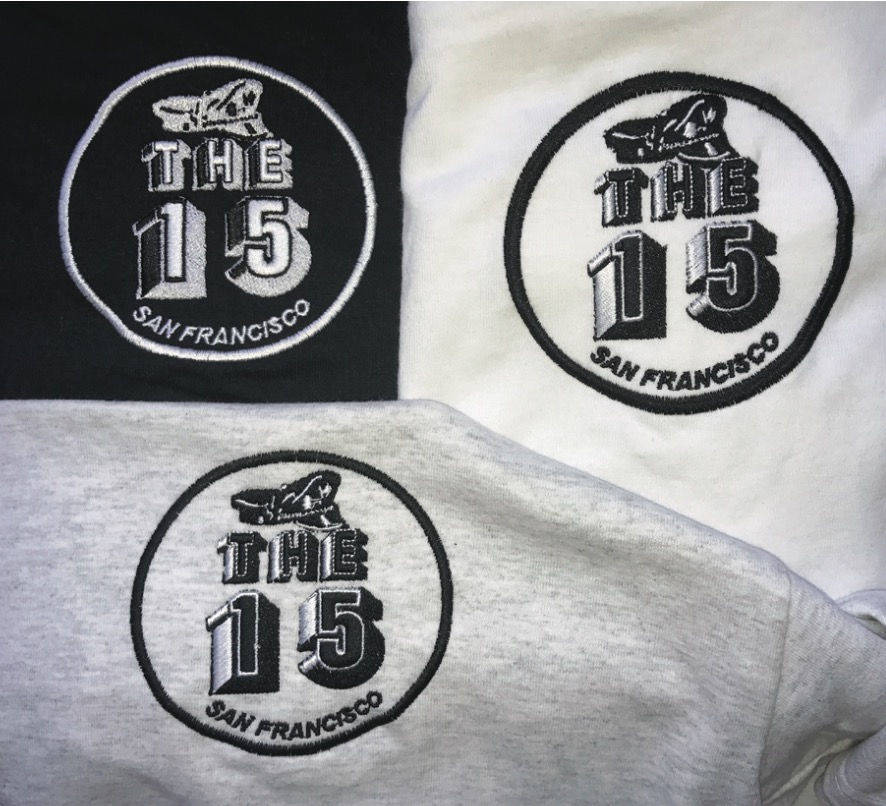 T-shirts with the club logo are available for $15 each. Shirt colors are Black, White, and Gray, with Red and Yellow on order. Want another color or special size? Sizes Small, Medium, Large, X-Large, and XX-Large are in stock now. Send requests to Tyler at tazpuppy@sbcglobal.net
---
Member News
MageneKink 2017
Race Bannon, Jared Hemming, and Strut invite you to MagneKink, a social event for San Francisco's kinky queer community. All are welcome!
This will be our 4th annual event, and is being held in honor of Up Your Alley weekend. Before you dive into that busy weekend of events, we hope you can join us to socialize with your fellow queer leather and kink brethren. And if you're a kink-curious newcomer, we welcome you too! This event is a great chance for you to catch up with friends or meet some new ones. It's also a great time to square up your plans for the festivities during Up Your Alley.
This year's event will be bigger and even more engaging, featuring:
DJ Donovan Jones, aka DJ BRD! (You can also catch him at his monthly party Reddroxx at the Lone Star or when he plays at 440, the Eagle and Lazy Bear Weekend 2017)
Impact scenes by Mr. San Francisco Leather 2017, Geoff Millard!
Bondage scenes by Jorge Vieto Jr.!
Puppy mosh by San Francisco K9 Unit!
Raffle prizes from Mr. S Leather, Worn Out West and others!
Complimentary refreshments!
Complimentary clothes check!
We look forward to seeing you there!
---
Got News? We want it!
News of interest to The 15 Association membership or brief articles about our members or our community are welcome. Not sure? Send it anyhow. Email Tyler Fong, the editor at: inquisitor@the15association.org by the end of the month for inclusion in the following month's Inquisitor. The newsletter is usually, but not always, produced the first week of the month. Submit your articles, announcements, events or other items of interest by the end of the month for inclusion the following month. Share events of other organizations, contests in which you are participating, and other items of interest here.