Stories
---
Upcoming 15 Association Events
Get out and play with your brothers! Mark your calendars for these upcoming 15 Association Play (and other) Events:
Sat May 20 6pm – 11pm (Doors Close: 9pm) — Play Party — Transform1060, 1060 Folsom St, SF, Advance Ticket Recommended, but can also be obtained at the door.
Sat June 17 – 21 — Bootcamp XXXIII*, Saratoga Springs, CA. Advance Registration Required
Sat July 29 6pm – 12midnight (Doors Close: 10pm) — Dore Play Party — Transform1060, 1060 Folsom St, SF, Advance Ticket Recommended, but may be obtained at the door if not sold out.
Sun July 30 11am – 5pm — Outdoor Dungeon at Dore Alley Fair — 10th St between Howard and Folsom, SF.
* All events are conducted according to the health regulations of the City of San Francisco. COVID Vaccination and Booster required for BootCamp. The situation is fluid — please check the website for current information.
For Advance Ticket Recommended events, tickets can be purchased in advance on the website, but can also be obtained at the door if they are still available (however the only payment allowed is credit/debit card, i.e. no cash).
The Calendar on our website is more current than the Inquisitor.
---
Message from the Chairman
Dear brothers,

The wet weather has finally left us behind as we look ahead towards leather season!

For me, that really begins with Boot Camp in June. I am looking forward to getting away with my brothers again in the mountains. I'll be there with bells on. Literally.

For those of you who have not yet registered for Boot Camp, we are accepting new reservations until 6/10/23. Please remember that members can request funding from our Seibert-Click Fund if money is just a bit too tight this year.

Of course, following Boot Camp, we barrel right at Up Your Alley featuring our infamous outdoor dungeon on Sunday, 7/30. Ticket sales for our popular 7/29 evening party at Transform1060 go on sale on 6/1 for members and 7/1 for guests. With Monkeypox having a subduing effect on the weekend last year, this year should be better than ever.

Finally, I'd like to wish those of you attending Mr. International Leather later this month a perverted time in Chicago. In particular, I'd like to congratulate Associate Member Billy Lane on his new role within the Renslow Charitable Foundation and Associate Member Austin "Whisper" for their role as a contest judge this year. Have fun, everyone!

In leather,
Christopher Wood
Chairman





---
Bootcamp XXXIII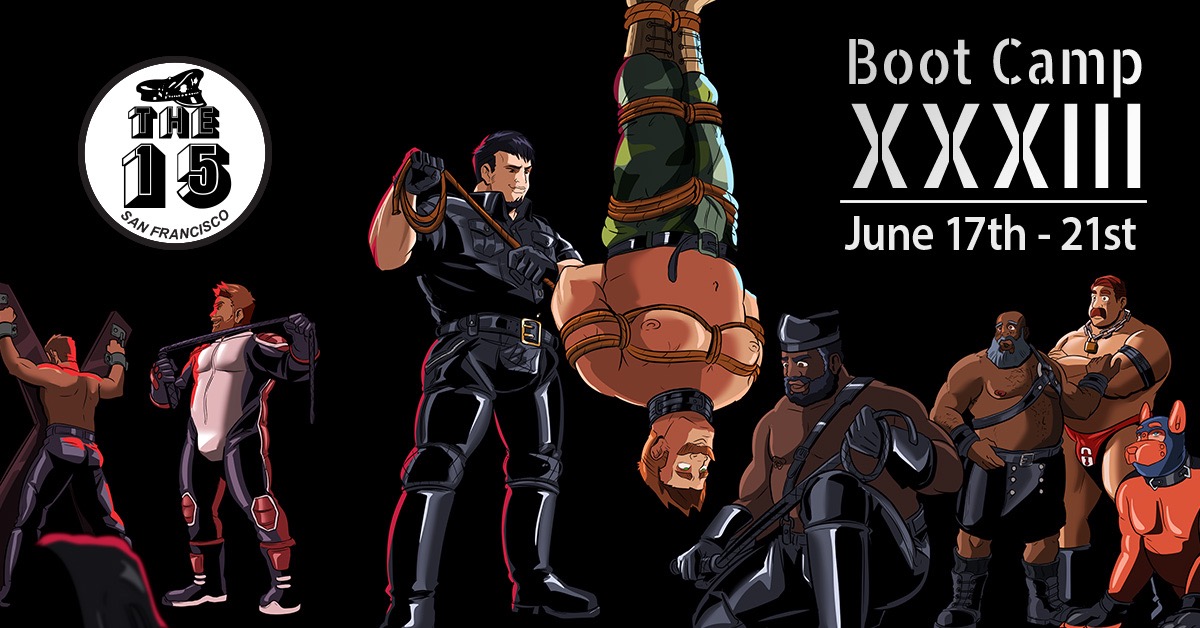 Dear Brothers:
Boot Camp is fast approaching! The most exciting event of the 15 Association Calendar starts Saturday, June 17 and runs until the morning of Wednesday, June 21! Registration is open until Saturday, June 10.
The best news is we still have a few openings!!!
There are only a couple private rooms left, but plenty of bunk and camping space.
Please remember that Boot Camp is only for 15 Association Members and their invited Guests. If you are not a Member and want to attend and know a 15 Member....well, ask them to sponsor you today.
Great food from Chef Gary is on the menu, as are three well-equipped playspaces!
Our main Dungeon in the Heart Lodge is available any time day or night. We also have a cross and bondage table up in the Yurt, if you want something a little more intimate. Plus, for the adventurous, you are welcome to play basically anywhere on the property, if outdoor action is on your agenda.
Our Members and Guests bring up some great (mostly) used equipment for a Fetish Flea Market.
I hope to see as many of you as possible up there in a few weeks!
Jeff, Boot Camp Chairman
---
Member News
Golden Dildeaux Awards 2023
The Annual Golden Dildeaux Awards were held on April 22. PRC Emergency Financial Assistance fund received $18,341.33 from this year's event.
Congratulations to all the nominees for the Golden Dildeaux Awards 51! Winners this year include Associate Members:
Thomas B.
Eric B.
Austin F. "Whisper"
Kevin H.
Marc O. "Pony"
Eric S. (Fraternal Member)
Jim S.
Graylin T.
---
Other Events
Other events of interest to 15 Association members:
Sat May 13 Noon – 5pm — SOMA Second Saturday – 12th St between Folsom and Harrison, SF
Arizona Men of Leather (AML) Monthly Leather Club Night
Contact Info: Mark Levesque, 602-785-2922, mark.levesque4@gmail.com
Join the Arizona Men of Leather for Anvil's monthly Leather Club Night at Anvil bar, located 2424 E Thomas Rd, Phoenix, AZ 85016, the second Saturday of each month, 10 pm to Closing. Show your affinity for leather, and show off your club colors and title affiliations. AML hosts ongoing interactive demos each month. Flagging is encouraged, so grab a color hanky from our booth and let'em know what you're into! All Leatherfolk are welcome!
AML is a male-identified Leatherman's Social Club consisting of individuals who seek or live the Leather/SM/Fetish lifestyle, providing opportunities for friendship, mentoring, education, and support in our community.
https://arizonamenofleather.com/
Pacific Northwest Leathermen's Campout is now open for registration! The event is set for 3–6 August 2023, on 15 secluded, tree-lined acres near Oregon City, Oregon, about 25 minutes south of Portland International Airport. This leather-focused campout is BDSM-friendly, Pup-friendly, clothing-optional, and sex-positive, with a wide variety of workshops and seminars. Find the green registration button and view the entire website at: www.pnwlc.org.
---
Got News? We want it!
Do you have News or Events our members would have interest in or enjoy outside the Dungeon?! Whether you are producing an event or just attending one others may not be aware and wish to participate. Our Community has much to offer and a variety of tastes so don't hesitate to e-mail by the 25th of the month for publication in the following month's issue. Inquisitor editor: Tyler Fong tazpuppy15@gmail.com.