Stories
---
Upcoming 15 Association Events
Get out and play with your brothers! Mark your calendars for these upcoming 15 Association Play (and other) Events:
Sat October 22 6pm – 11pm (Doors Close: 9pm) — Play Party* — Transform1060, 1060 Folsom St, SF, Advance Ticket Required
Sat November 19 6pm – 11pm (Doors Close: 9pm) — Play Party* — Transform1060, 1060 Folsom St, SF, Advance Ticket Required
Sun December 18 2pm – 6pm (Doors Close: 4pm) — Holiday Play Party* — Transform1060, 1060 Folsom St, SF, Advance Ticket Required
* All events are conducted according to the health regulations of the City of San Francisco. COVID Vaccination and Booster required. Advance Ticket Required, and there are no sales at the door. The situation is fluid — please check the website for current information. The Calendar is more current than the Inquisitor.
---
Holiday Play Party 2022
Celebrate the holidays and the end of 2022! This Holiday Play Party will be on Sunday afternoon. Some extra trimming and sweet treats might be just the topper you're looking for so mark your calendar for Dec 18, 2-6pm @ Transform1060!
---
Dues Increase for 2023
In light of rising costs post-pandemic, the Fraternal Committee has determined that a membership dues increase is vital to the Club's fiscal health. This will help cover the rising costs of supplies and venue rentals. The new dues are $95 for the first year of a new membership and $75 a year for Associate Members. This is our first increase in nearly ten years. Should this increase pose a financial hardship, please remember that we have a fund to subsidize those who cannot afford the full amount. We look forward to continuing to build our brotherhood long into the future.
---
Volunteer Weekend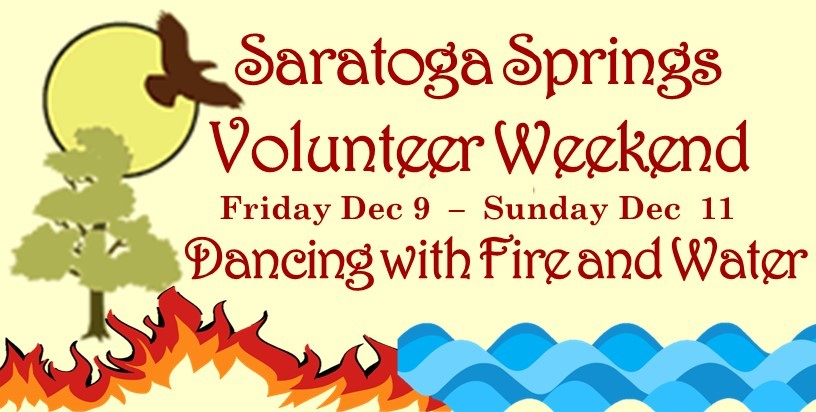 Dear Brothers:
Saratoga Springs, our home away from home, could use some help in order to keep the resort more fire safe and improve the hiking trails on the grounds. In the past couple of years, 15 Members and Guests have been very generous with their time, as I have organized several groups to go up and assist. This year they are trying to simplify things by cutting out the middle man (me) and simply allowing you to register directly. I can tell you from personal experience that working up there for the weekend will involve working very hard all day Saturday and Sunday morning, but that it feels great to do physical labor with friends and other like-minded people in the beautiful environment up there. Feel free to check out their schedule of events and volunteer if you like. If you also let me know about your volunteering, I can make sure you get credit toward membership, if you need a shift or two.
I do advise you to make sure they are aware of your dietary requirements, as they have in the past sometimes done mostly vegetarian menus that didn't necessarily suit the needs of everyone who participated.
They are inviting people to give a suggested donation of $200 to help cover the cost of food and running the weekend. In the past, they have not asked for the $200 fee, just the help, and you will be completely welcome if you cannot make that extra donation. Believe me, they are grateful for the free labor.
Check out the Schedule of Events to learn more about the weekend, and go to Register to let them know you are coming.
Feel free to contact me at msterjeffrey@comcast.net if you have questions, or to let me know that you are volunteering if you need to get volunteer shift credit towards membership.
In Brotherhood,
Jeff Garner
Boot Camp Committee Chairman
---
Member News
Biography of Jok Church
In a wonderful piece of news, Richard Bolingbroke (Associate Member) has been awarded a $500 grant from the Leather and LGBTQ Cultural District to aid in his efforts in writing a Biography of Jok Church who was a member of the club.
Jok was a kinky gay man who was a member and an active supporter of The 15 Association. During his lifetime among his many achievements was the creation of the science strip You Can with Beakman and Jax and Beakman's World, the TV series. He was also possibly the youngest out gay man to broadcast on a national FM station when he worked at KZAP radio Sacramento from 1972–1979. He gave his TED Talk in 2007 wearing his red leathers, possibly the widest audience of any Leatherman in history. https://www.ted.com/talks/jok_church_a_circle_of_caring
Richard is writing a full-length biography of Jok Church to document his long and productive life, in all its aspects. You can donate to his fundraiser on GoFundMe https://gofund.me/bd616f73
---
Other Events
Other events of interest to 15 Association members:
Sat November 19 7pm – 9pm — Golden Gate Guards Anniversary, SF Eagle, 398 12th St, San Francisco, CA 94103. Wear your club colors (vest with The 15 Association back patch).
---
Got News? We want it!
Do you have News or Events our members would have interest in or enjoy outside the Dungeon?! Whether you are producing an event or just attending one others may not be aware and wish to participate. Our Community has much to offer and a variety of tastes so don't hesitate to e-mail by the 25th of the month for publication in the following month's issue. Inquisitor editor: Tyler Fong tazpuppy15@gmail.com.