Stories
---
Upcoming 15 Association Play Events
Get out and play with your brothers! Mark your calendars for these upcoming 15 Association Play Events:
Sat May 20 7pm-Midnight — Play Party at Catalyst. Doors close at 10pm.
June 14 - 18 — Boot Camp XXIX
Sat July 29 6pm-Midnight — Dore Play Party at Catalyst. Doors close at 10pm.
Sun July 30 11am-5pm — Dore Alley Fair and The 15 Association Outdoor Playspace
Always check the website for the most current information and Calendar for future events.
---
Message from the Chairman
Gentlemen, and not so gentle men,

Our April party, for those who missed it, was one hot scene after another. There were many new faces that were welcomed with open arms. We should all take the time to welcome new men into our parties, because it's not just about someone coming to play for the first time, it's really about the second time. So take five minutes, introduce yourself, find out something about the person, show them around, and introduce them to someone else. You never know, that person might be the next chairman someday.

The bar crawl South of Market was a success. A dozen guys in all toured the bars over the afternoon. Some new faces, and familiar ones, lots of good conversation, toasts, and a shock collar. Everyone agreed that we should do this again in the future. Although we don't host a lot of purely social events as a club, folks have been asking for more activities during the daylight hours. So be on the lookout for another bar crawl.

See everyone in May for our next party, and see you at BootCamp!

Eric See
Chairman




---
Bootcamp XXIX
Boot Camp is rapidly lling up! We are currently going to a waiting list for Doubles, but there is still plenty of Bunk Space and Camping Space available.
We still need help with Tear Down. If you are interested in helping out with this critical job or want more information, please contact Jeff Garner at msterjeffrey@comast.net. Working on the Tear Down Crew entitles you to early arrival on Tuesday, June 13, (late afternoon or early evening) to join the Set Up Crew for dinner and the Pre-Run Dungeon Christening Party!
Also, we need more people who can offer rides to and from Saratoga Springs. If you registered indicating that you neither need nor can offer a ride, and your situation does allow you to offer a ride, please contact Jeff Garner at msterjeffrey@comcast.net.
---
Fetish Flea
You have the opportunity to sell, buy or trade at BootCamp. Clear out those storage areas, and spend a couple of hours streamlining or expanding your collection of pervertables! Note that the new 15 Association T-shirts will also be available for purchase. Standard colors of Black, White, and Gray, with additional Red and Yellow.
---
T-shirts – Now embroidered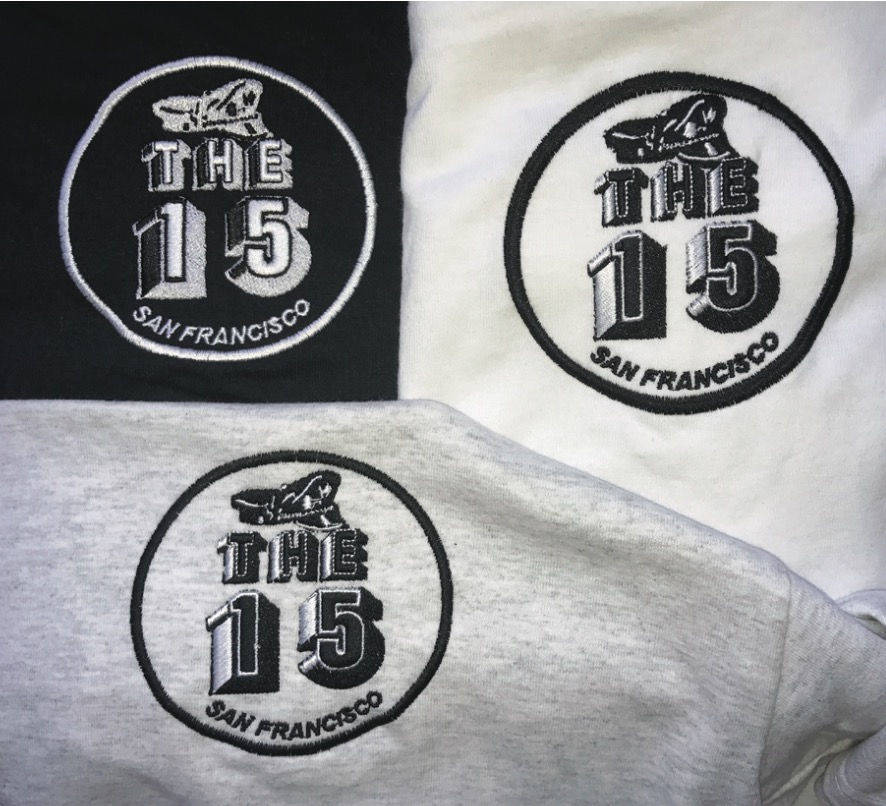 T-shirts with the club logo are available for $15 each. Shirt colors are Black, White, and Gray, with Red and Yellow on order. Want another color or special size? Sizes Small, Medium, Large, X-Large, and XX-Large are in stock now. Send requests to Tyler at tazpuppy@sbcglobal.net
---
Member News
AIDS/ LifeCycle 2017: UPDATE to March posting
Greetings, Brothers. If you remember, in last month's Inquisitor I began my pitch for donations, to participate as a Roadie in this year's AIDS LifeCycle ride. However, due to an emerging schedule conflict, I will not be able to participate after all, and I wanted to let you all know before you started sending in your donations. Thank you so much in advance for any contributions you had planned to make. I have appreciated your support, and I cherish your presence in my life in ways that I could never express. Please stay tuned to my social media space for opportunities to donate to Riders who need the extra push, especially during the last couple weeks of the ride. Thanks again. See you at Saratoga Springs!
— Eric Crow
Gay Naturists International (GNI) - Brian Ballone: Part 1 of 2
I'm the "Den Daddy" of the Leather Barracks during the 2017 GNI Gathering from August 18–27, 2017! It sounds amusing to me as well, but who could say no to two friends who asked me to take on this position? If you told me that I would be doing this a few years ago, I would have laughed at not only being a cabin coordinator, but also being a part of the resurrection (res-erection??) of the "Pocono Eagle"!
For the past 32 years, Gay Naturists International (GNI)'s summer camp has taken place in the Pocono mountains of northeastern Pennsylvania — about a 90-minute drive west of New York City, right off of Route 80. Once you arrive at camp, you have no need for clothing the entire time you are there! A nude event for men aged 21 and over, if you are a first time attendee, you can participate in the clothing-optional weekend (August 18 - 20); however, once you are surrounded by several hundred guys you quickly lose your inhibitions, drop trou, and join in the naked man-fun. You can do as little or as much as you want — two pools all week, or social activities planned by the organization's event planners, or by other Gathering attendees. Each night there is entertainment in a 450-man auditorium, cabin events, and a fully operating world-class dance club, pumping hot dance mixes and retro 70's disco into the wee hours of the morning.
GNI has a fantastic blend of our community — as with most clubs, more older men than younger members, but also a Drag, Bear, and a Leather community, among others. Thursday at GNI has always been "leather day/night". In years gone by there was a much more visible leather presence, including a big Wednesday night Leather party hosted at one of the cabins in a remote section of camp. Sometimes it was so popular they would host a second Leather party on Thursday night, too! Unfortunately, the members who hosted it 'moved on,' but we are now bringing those festivities back by creating the "Pocono Eagle."
For more info: poconoeagle@gaynaturists.org, 202.302.2194, or gaynaturists.org
---
Membership Renewal
If you haven't yet renewed your membership for 2017, you can renew online. It's easy! And if you need assistance for your annual dues we can help with that as well. Just don't be one of the members that we need to track down later this year....
---
Got News? We want it!
News of interest to The 15 Association membership or brief articles about our members or our community are welcome. Not sure? Send it anyhow. Email Tyler Fong, the editor at: inquisitor@the15association.org by the end of the month for inclusion in the following month's Inquisitor. The newsletter is usually, but not always, produced the first week of the month. Submit your articles, announcements, events or other items of interest by the end of the month for inclusion the following month. Share events of other organizations, contests in which you are participating, and other items of interest here.