Stories
---
Upcoming 15 Association Play Events
Get out and play with your brothers! Mark your calendars for these upcoming 15 Association Play Events:
---
Message from the Chairman
Hello Brothers,

We had one of our best parties in years on the eve of Dore Alley. With 119 hot men attending, you could feel the energy in the air, as well as hear the noises! Every piece of equipment was used, including posts, walls and sometimes floors. The next day for Up Your Alley (Dore) Fair, we had our premiere play booth open for all of our club brothers and many, many guests. Folsom Street Events really appreciates our dedication to keeping the fair focused on play.

We have an upcoming party on August 27th at the Alchemy dungeon from 7pm until midnight. Come and join us for hot summer fun with some of the best players in the Bay Area. Let's put the dog back into the dog days of summer!

Lastly, as has probably been making the rounds of the Leather gossip circuit, the Alchemy dungeon is closing its doors at the end of September. We will host our August and Folsom eve parties at the Alchemy dungeon. We have made the Alchemy dungeon our home for the past two years and it is with great sadness that we will need to move. Have no fear though. The fraternal committee is hot on the trail to finding our new home. Our club has moved to many dungeon spaces over our 36-year history and we will continue to find places to play every month. Our home, ultimately is not in any one dungeon but in our leather hearts and our club bonds that have proven unbreakable.

Your Chairman,
Eric See





---
In Memoriam
Morris Taylor, 1935-2016

Morris Taylor (Master Morris) was a member of the 15 Association for nearly 20 years, and was recently granted Honorary status in recognition of his many years of devoted service to the club. He passed away on August 9, 2016. He has given workshop/demos for Northwest Leather Conference, Great Lakes Leather Alliance, Leather Alley, Leather Reign, smOdyssey, Society of Janus, Alameda Leather Core, Leather/Levi Weekend, Leatherman's Discussion Group and the Ring. For forty years Dr. Morris Taylor was a Professor of Music, a classical pianist and musicologist. He was also a gifted watercolor artist with over 15 one-person shows to his credit. His works can be seen at: www.morristaylor.net and morristaylor.net/adult, and also in his recently published autobiography Nine Lives of Morris. Morris was named International Master 2013 alongside his slave jonathan, who was named International Slave 2013.
Thomas Warren Mathie, 1935-2016
With sadness, we report the passing of 15 Association member Tom Mathie after a courageous bout with cancer. Tom was a kind, generous, loving man who always offered his heart, house, and eternal hope to friends and family. We send condolences to Tom's husband Carlos and Tom's family.
---
15 Association Marches in the SF Pride Parade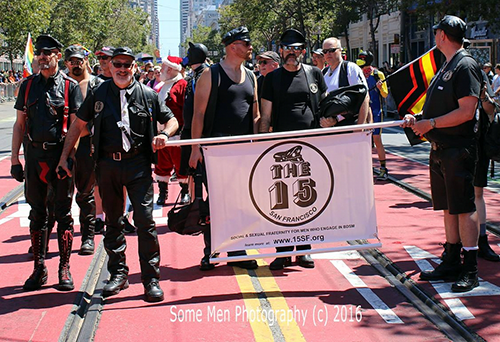 After years of being pushed to the back of the parade, the leather contingent finally got a chance to be near the front, and marchers were able to get to Civic Center in time to enjoy the street fair and Leather Alley, a fund raiser for the Bay Area Leather Alliance of which The 15 Association is a member. We proudly showed off the 15 Association banner during the parade, and several of our members were featured prominently in the live TV coverage.
San Francisco Pride was a fabulous celebration of how far the LGBTQ community has come since the first Pride Parades that were held in San Francisco, New York, Los Angeles and Chicago. The parades celebrate the first anniversary of the Stonewall Riots. Stonewall put us on the front pages across the nation and is credited with starting much of the progress our community has made in the last 46 years.
---
15 Association at the LDG Fetish Fair

Join The 15 Association and other Bay Area clubs and organizations at the Leathermens Discussion Group's Fetish Fair on Saturday August 20th from 7pm-9pm at the SF Citadel. The event is free and open to the public. Some of our Fraternal and Associate members will be holding demos and promoting the club. Go to www.SFLDG.org for more information about the Fetish Fair and other activities throughout the weekend.
---
Other News and Events
15 Association In Memoriam Pages
The 15 Association website features an In Memoriam section where we list members and friends of the club who have died. We invite everyone to visit this section, and we encourage members to submit memories and photos of 15 Association members we've lost over the years. We currently have obituary pages for only a fraction of deceased members, so we need your help to complete this part of our mission as a club. Please send submissions to membership@the15association.org.
Mark Your Calendar
Other events of interest to 15 Association members:
September 2-6: Delta International Annual Run in Pennsylvania
Sunday, September 25: Folsom Street Fair