Stories
---
Upcoming 15 Association Events
Get out and play with your brothers! Mark your calendars for these upcoming 15 Association Play (and other) Events:
Sat January 23 5pm – 8pm — Play Party — Virtual on Zoom. Go to 15sf.org on the day for access.
Wed June 16 – 20 — Bootcamp XXXII
---
Message from the Chairman
Brothers,

Welcome to 2021. As the world turns the corner on the pandemic, I look ahead to this year as an opportunity for The 15. When permitted to reopen, we will continue our 40-year tradition of hosting fantastic BDSM play parties and events in which we nurture our love for one another. With that return, I hope to look for ways to incorporate new ideas while respecting tradition. Over the past five years, I have watched our membership and attendance at events grow in numbers, diversity, and styles of play. I want to help continue that trend.

For anniversary this year, we are planning a virtual event featuring interviews with members from across generations. Keep an eye on your email or check the web site for more details as they are released.

Our Boot Camp Chair, Jeff Garner, is staying on top of communication and negotiations with our campground so that we can remain as agile as possible in planning Boot Camp. Registration opens for members on February 1 and guests on March 1.

I want to take a moment to thank our outgoing Chairman, Eric See. I cannot express enough how hard he works for the betterment of the Club with an undying passion for our brotherhood. I consider him my brother, my friend, and my mentor. I look forward to continuing to work with him on the committee.

Finally, thank you to the Fraternal Committee for having the confidence to allow me to serve the Club as Chairman. The 15 is my extended leather family. I am dedicated to serving and supporting each one of you. Reach out to me using the Contact Us form on our web site.

Christopher Wood
Chairman, The 15 Association





---
Bootcamp XXXII
Due to uncertainty regarding COVID-19, the Fraternal Committee has voted to postpone the beginning of Member Registration for Boot Camp 2021 from January 1 to February 1, 2021, and Guest Registration from February 1 to March 1, 2021. If you rolled over your registration from last year, you are already registered. The Fraternal Committee takes very seriously our duty to make sure our events are safe for all those who participate, and at this time, we have no way of knowing if it will be safe to hold Boot Camp 2021 this June. It is our sincere hope that the situation will clarify itself prior to February 1, so that we can either (hopefully) open registration, or cancel the run prior to registering any more participants.
This will not affect the deadlines and/or availability of payments or refunds. Payment in full for Boot Camp 2021 is due by April 30, 2021. Likewise, any registrations canceled by April 30, 2021 will receive a full refund.
---
Other News and Events
Other events of interest to 15 Association members:
Wed January 20 — Release of Street Sex Photos
Fri August 27 – 29 — Seldom Creek Leathermen's Campout
---
Mark I. Chester's New Book Features The 15 Association Members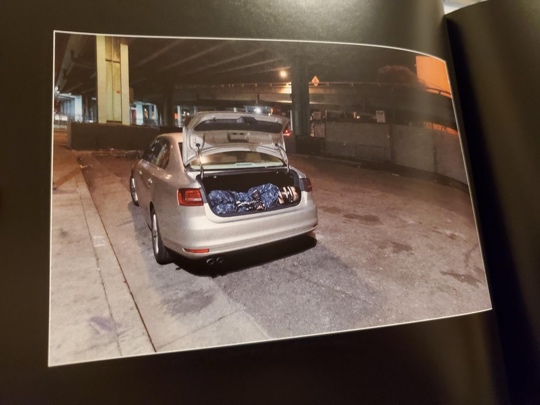 Street Sex Photos is a 100 page 10"x8" hardback book, documenting gay men being sexual on the streets of South of Market in San Francisco. It is a dream of the past and a hope for the future. It remembers a time when gay men ruled the streets of South of Market at night; a time when the South of Market was like a giant supermarket of the sexual underground. A Wild Wild West where you could find anything you wanted at any time of the day or night, if you only knew where to look for it.
Mark I. Chester is a gay radical sex photographer whose fine art sexual art has documented his life in San Francisco's South of Market since the late 1970s. His work is sexually explicit, politically provocative, socially conscious and artistically taboo. Now at 70, he remains undeterred and believes with all his heart that the sexual lives of gay men are important and worthy of documentation and study. His work continues to break down barriers between normally exclusive genres of art, including fine art studio portraiture, social documentary work, explicit sexual art, and street photography. His book, Street Sex Photos will be officially released on 1/20/21. Special low pricing available until release. Send an email to sfphotou@yahoo.com for details on how to purchase.
Seldom Creek Leathermen's Campout
To be held August 27-29, 2021, at a location with 15 secluded tree-lined acres, east of Oregon City, Oregon, east of Interstate 205, about 25 minutes south of Portland International Airport. It will be BDSM focused, with 15 massage tables, crosses, and more dungeon equipment. Clothing Optional and sex positive, with outdoor and indoor showers, and an outdoor hot tub. Other amenities include a Pavilion with outdoor kitchen with gas BBQ grill and picnic tables, all under cover, and a fire-pit conversation area.
The site features indoor accommodations, tent campsites, and RV spaces with connections. There will be indoor and outdoor dungeon play spaces, and a Media Room/Porn Theater. The schedule starts with a Friday evening potluck icebreaker, and there will be demonstrations on Flogging, Single-tailing, Rope Bondage, Fisting, & Sounds.
Bring your own food, linens, camping gear, condoms, coolers, toys, flashlight, and first aid kit. Potable water is available on site.
The organizers are Don Blair (onewildryd@gmail.com), Brue Pierce, and Ron Rasmussen (tallraz.887@gmail.com). There will be a website available soon, and pricing is TBD.
---
Patreons
Patreon contributions can be made to:
The Leather Journal — recording our history for over 30 years!
https://www.patreon.com/theleatherjournal
SF Catalyst — Home Dungeon to The 15 Association and new expansion opportunity.
https://www.patreon.com/sfcatalyst
---
Got News? We want it!
Do you have News or Events our members would have interest in or enjoy outside the Dungeon?! Whether you are producing an event or just attending one others may not be aware and wish to participate. Our Community has much to offer and a variety of tastes so don't hesitate to e-mail by the 25th of the month for publication in the following month's issue. Inquisitor editor: Tyler Fong tazpuppy15@gmail.com.