Stories
---
Upcoming 15 Association Events
Get out and play with your brothers! Mark your calendars for these upcoming 15 Association Play (and other) Events:
Wed June 13 – Sun June 17 BootCamp XXX
Sat June 30 7pm – Midnight — Play Party at SF Catalyst. Doors close 10pm.
Sat July 28 6pm – Midnight — Dore Play Party at SF Catalyst. Advance Tickets Required! Doors close 10pm.
Sun July 29 11am – 5pm — Outdoor Dungeon at Dore Alley Fair
Sat August 25 7pm – Midnight — Play Party at SF Catalyst. Doors close 10pm.
---
Message from the Chairman
Gentlemen,

I hope to see many of you at Saratoga Springs for Bootcamp XXX. I have a feeling that this is going to be one for the history books.

Speaking of history, the club has turned over its archives to the GLBT Historical Society. With a generous check, thanks to the fundraising at the Anniversary XXXVIII dinner, our history should be properly archived and shelved in a year. We will continue to work with the Historical Society in the future as we document our important club for future generations and historians.

In other fundraising news; Thanks to everyone who helped sell jello-shots or raffle tickets at our recent beer bust. This was our most successful beer bust since the SF Eagle, our home bar, re-opened five years ago.

Eric See
Chairman





---
Looking Ahead to Dore Alley
It's almost here, that time of the year when the locals as well as out of town guests, gather and celebrate. The GGG have a Leather Cruise, the men of BLUF hold a uniform dinner and The 15 Association holds a hot Play Party. Remember that Play Party tickets must be PRE-Purchased beforehand and will NOT be sold at the door. Members can access tickets on line as of June 1 and Guests can access on line tickets as of July 1.
In addition The 15 Association will be hosting an outdoor Dungeon at Dore Alley on Sunday July 29. If you missed the party on Saturday or still want more play this is your opportunity!
---
Other News and Events
Mark Your Calendar
Other events of interest to 15 Association members:
Fri June 16, Mon June 18, and Wed June 20 (see below for times) — ABC Training
Sat June 23 8pm – 1am — Gear Up: "Black is the New Pink" Party www.gearupweekend.com
Sun June 24 (see below for times) — SF LGBT Pride and Celebration sfpride.org
Fri June 1 – Sat June 23 (see below for times) — Curtain Call Theatre, Monte Rio
Attention Volunteers: ABC Training Opportunity
Soon, SF Gay Pride, Dore Alley Fair, and Folsom Street Fair will be here, and that means Beer Booth time. Though The 15 Association isn't hosting a booth, other organizations like the Golden Gate Guards and the Alameda County Leather Corp are hosting and need volunteers to assist their clubs. Volunteering your time is a generous act that will help raise funds for local charities in San Francisco, Alameda County and beyond like the National Coalition for Sexual Freedom (NCSF) and the Leather Archives and Museum (LA&M). Not to mention the grateful heart-felt thanks from the hosting club who have to spent hours acquiring the booth, gathering the necessary supplies and snacks to feed and hydrate their volunteers, as well as finding ways to certify all their volunteers.
That being said, you will need an ABC (Alcohol Beverage Control) card to work in the booth. ABC cards are valid for three years from the training date.
If you need a new card because you never had one or it's expired, you can register at pride-beverages.com for any of the scheduled FREE trainings, including both San Francisco and Oakland:
Saturday, June 16th 10am @ SF Women's Building Auditorium, 3543 18th Street, San Francisco
Saturday, June 16th 2pm @ Club 21, 2111 Franklin Street, Oakland
Monday, June 18th 7pm @ The First Unitarian Universalist Society of San Francisco TSK Room, 1187 Franklin Street, San Francisco
Wednesday, June 20th 7pm @ The First Unitarian Universalist Society of San Francisco TSK Room, 1187 Franklin Street, San Francisco
SF Gay Pride Parade — Leather Pride Contingent
10:30am – Leather Pride parade contingent (Market Street SF)
It's time for San Francisco's annual Gay Pride Parade, Sunday June 24th. Hundreds of contingents feature thousands of parade participants. You'll have the opportunity to show your pride and march with other Kink, Leather and Fetish lovers in the Leather Pride contingent. Contact Jason Husted, Contingent Chairman for details on Facebook. Additional information can be found on the "San Francisco Leather Pride Contingent Group" Facebook page. All vehicles assemble in the staging area before 9am, and the Parade officially starts around 10:30am on Market Street, and marches from the Embarcadero to Civic Center.
Leather Alley at SF Gay Pride Sunday
11am – 5pm — Leather Alley (Hyde ST between Golden Gate and McAllister)
The San Francisco Bay Area Leather Alliance (The 15 Association is a member club in this alliance) will host the annual Leather Alley on Sunday June 24 from around 11am – 5pm. Enjoy demos, get club/organizationalinformation, hang out, or volunteer. Demo volunteers can contact Lincoln Q Anderson at LincolnQAnderson@gmail.com or (415) 684-4824.
Hello Theater Lovers...
Let Curtain Call Theatre entertain you this Summer with one of the most hilarious plays to date.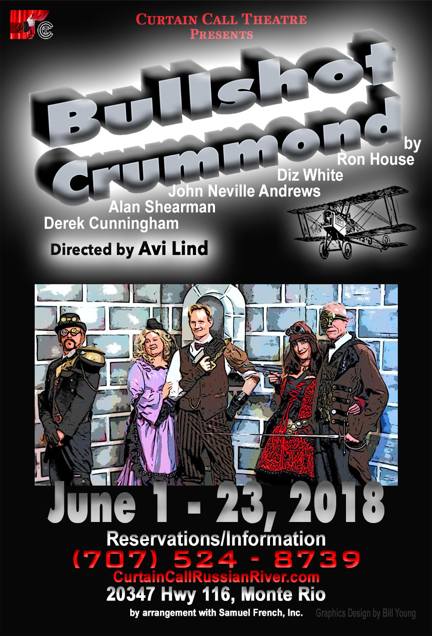 Before James Bond, before Austin Powers, before Clouseau, there was Captain Hugh "Bullshot" Crummond. This dashing, determined, deliriously funny detective is a former Olympic champion, flying ace, auto racer, and all-round sporting chap who fights the forces of evil wherever he encounters them.
When a beautiful damsel in distress asks him to rescue her scientist father, who was abducted and is being held prisoner, Bullshot leaps into action against his arch-nemesis, the devious Count Otto Von Brunno.
What ensues is a hilarious "tour-de-farce" in this rapid British comedy classic presented in "Steam Punk" style and over-the-top elegance!
Join us for an evening of fun and frolic with this comedy full of zany characters and fast action, with a laugh-a-second timing and gags. Suitable for the whole family.
10 Performances only, starting June 1 and ending June 23 with our traditional fund-raising Champagne Buffet Gala ($50 Donation). Fridays and Saturdays at 8pm, Sundays at 3pm, $20 General and $15 Students/Seniors 60+ Except Gala on June 23.
Don't miss this Summer Special. Reserve your seats now. Call 707-524-8739.
Thank you.
Michael.
Michael Tabib, Artistic Director
Curtain Call Theatre at the Russian River
707-849-4873 michael.tabib@gmail.com
Serving Sonoma County Theater since 1979
Got News? We want it!
Do you have News or Events our members would have interest in or enjoy outside the Dungeon?! Whether you are producing an event or just attending one others may not be aware and wish to participate. Our Community has much to offer and a variety of tastes so don't hesitate to e-mail by the 25th of the month for publication in the following month's issue. Inquisitor editor: Tyler Fong tazpuppy@sbcglobal.net.