Stories
---
Upcoming 15 Association Events
Get out and play with your brothers! Mark your calendars for these upcoming 15 Association Play (and other) Events:
Sat March 25 6pm – 11pm (Doors Close: 9pm) — St Paddles Day Play Party* — Transform1060, 1060 Folsom St, SF, Advance Ticket Recommended, but can also be obtained at the door.
Sat April 22 6pm – 12midnight (Doors Close: 10pm) — Associates Weekend Play Party* — Transform1060, 1060 Folsom St, SF, Advance Ticket Recommended, but can also be obtained at the door.
Sun April 23 2pm – 6pm (Doors Close: 4pm) — Associates Weekend Sunday Play Party* — Transform1060, 1060 Folsom St, SF, Advance Tickets Recommended (they're free!), but can also be obtained at the door.
* All events are conducted according to the health regulations of the City of San Francisco. COVID Vaccination and Booster required. Advance Ticket Recommended, but can also be obtained at the door, however the only payment allowed is credit/debit card (i.e. no cash). The situation is fluid — please check the website for current information. The Calendar is more current than the Inquisitor.
---
Message from the Chairman
Brothers,

Thank you for making our 43rd Anniversary a blowout weekend! It is always difficult working with a new venue and new caterer but it was worth every bit of work we put into it. Folsom Street Foundry was an amazing setting for one of the largest silent auctions in recent years while the Spanish-themed dinner provided by MamaBear catering was a welcome change of pace. In addition to honoring MamaBear, we also recognized longtime volunteer Michelle Garner and awarded much-deserved Honorary member status to Daddy Mike Floyd before the sold-out crowd.

Though the weather did not cooperate well for our outdoor social events, both of our dungeon parties were spectacular. Brothers and guests from around the world came together once again to play and love one another. The intensity and creativity of the play was mind-blowing.

I'd love to hear your thoughts about any aspect of Anniversary Weekend. Please use the contact chairman link on our web site.

Looking forward this year, our March 25 party is themed "St. Paddles Day." Mike Walker has handcrafted three beautiful shamrock-hilted paddles for the event. Each attendee will receive a raffle ticket at the door and can purchase additional chances to win one (cash only).

Our goal this year is to make each party have something unique about it. We want to make sure that there is always something to look forward to. While we are still working on themes and other ideas, we do have our August party slated as a joint party with ONYX Northwest. This is something I personally have been trying to help make happen for a few years. We are excited to partner with them!

That's it for me this month. I'll see you soon.

With love in leather,
Christopher Wood
Chairman





---
St. Paddles Day Play Party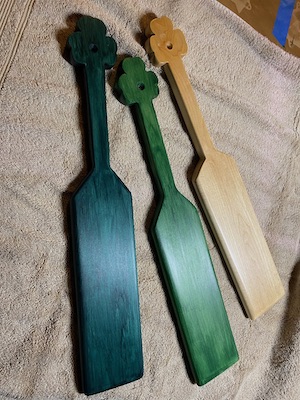 Mike Walker (Fraternal Member) has hand crafted three paddles for the March 25 Play Party! Each attendee will receive One FREE raffle ticket! For a cash donation more tickets may be purchased. Join the first of several themed parties in 2023!
---
Annual Dues for 2023
The end of the First Quarter of the year is quickly approaching and about 25% of our members have not renewed for 2023! If this is you or someone you know... it's not too late to renew. Financial assistance is available from the Jones Fund. Go online to make a request when renewing. the15sf.org
---
Other Events
Other events of interest to 15 Association members:
Sat April 8 Noon – 5pm — SOMA Second Saturday – 12th St between Folsom and Harrison, SF
Sat May 6 6pm – 10pm — Leather and LGBT Cultural District 5th Anniversary – Folsom St Foundry, 1425 Folsom St, SF
Sat May 6 3pm – 6pm — Bare Chest Calendar Finals – DNA Lounge, 375 11th St, SF
Sat May 6 3pm – 5pm — Ms. SF Eagle Leather contest – Eagle SF, 398 12th St, SF
---
Got News? We want it!
Do you have News or Events our members would have interest in or enjoy outside the Dungeon?! Whether you are producing an event or just attending one others may not be aware and wish to participate. Our Community has much to offer and a variety of tastes so don't hesitate to e-mail by the 25th of the month for publication in the following month's issue. Inquisitor editor: Tyler Fong tazpuppy15@gmail.com.