Stories
---
Upcoming 15 Association Events
Get out and play with your brothers! Mark your calendars for these upcoming 15 Association Play (and other) Events:
Sat February 27 2pm – 5pm — Anniversary Zoom Party — Virtual on Zoom. Go to 15sf.org on the day for access.
Sat March 20 5pm – 8pm — Play Party — Virtual on Zoom. Go to 15sf.org on the day for access.
---
Message from the Chairman
Brothers,

The original recruitment flyer for The 15 Association declared, "We will be a group of men who will stick together." We have done just that for 41 years and it could not be more important than it is now at a time we must physically isolate. Each February, we traditionally gather in brotherhood in honor of the anniversary of our founding. This year, please join your brothers on Zoom for an Oral Celebration of 41 years of fraternity. The event will begin with a "cocktail hour" for you to get settled in and chat. Following that, we will present our program featuring the personal video stories about the club from nearly 20 members across generations. After the program, you can interact with your brothers from around the world in one of several breakout video chat rooms. Log in to the web site on the day of the event to join.

I want to assure you that SF Catalyst, our home dungeon, is being cared for while we wait to re-open. A few of our members help me check in on the space and keep it maintained on a regular basis. It does, however, need as much financial support as possible. If you are able and would like to contribute, the Patreon information is provided below and in each month&rquo;s Inquisitor.

The Fraternal Committee welcomes Tom Bonfigli as our newest Associate Member. Tom is an active volunteer and enthusiastic player. Congratulations, Tom!

Thank you to Dustin Ramos-Yeager for stepping up into the role of Membership Chair. Speaking of membership, it is that time of year that membership fees are due. We know that many people are faced with reduced or no income during the pandemic. If you need help with your dues, the Jones Fund has you covered. Simply select the option when renewing your membership. We stick together.

Cheers,
Christopher Wood
Chairman, The 15 Association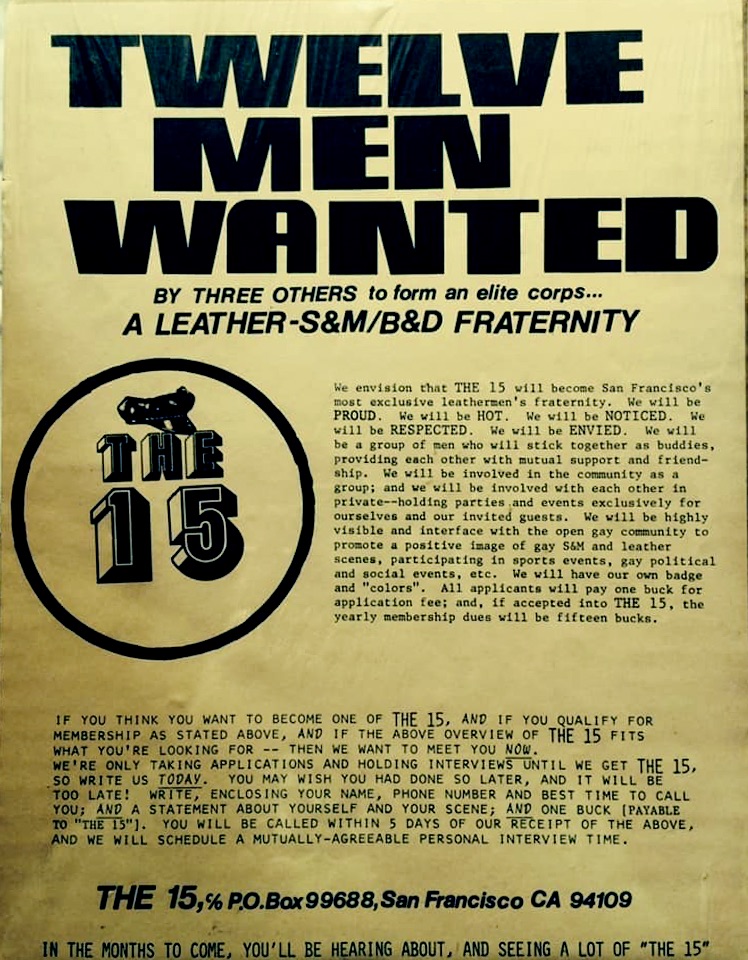 ---
Bootcamp XXXII — CANCELLED
Dear Boot Campers:
It is with great sadness that I must write to inform you that Boot Camp 2021 has been cancelled. Unfortunately, even if an event of our size is allowed to go forward in June, it would have to do so with social distancing rules that would prohibit the very activities that make Boot Camp so much fun. Unfortunately, the best estimates as to getting the new vaccines to everyone, put that date well past June. I encourage you to keep a watch on our website and read the monthly Inquisitor digital newsletter very carefully to keep up with what the 15 Association is doing during this unprecedented crisis.
All Run Fees paid (those rolled over from last year) shall be refunded. We will be handling these refunds by check. Credit card refunds are no longer possible since the transactions are a year old. So, if you rolled over your Run Fees from last year to pay for Boot Camp 2021, please make sure your mailing address is up to date on your profile at the website (15sf.org).
I also wanted to take a moment to let you know that obviously Saratoga Springs and our wonderful Chef Gary are facing great financial strain at this time. With all gatherings cancelled, everything at Saratoga Springs is having to be cancelled, and with no gatherings there is no work for a caterer who feeds them, going into the second year. I cannot take credit for thinking of this very important issue, Ian from Canada called me to suggest that we do whatever we can to help them. To that end, if you are able and so inclined, you might want to make a donation to help them stay afloat. Gary has a "gofundme" page set up, and here is the link: https://www.gofundme.com/f/help-your-out-of-work- caterer
While Gary is a business, and the 15 Association has a policy NOT to solicit donations for businesses (other than non-profit, charitable organizations), we did want to pass along the information for helping him out, simply because Boot Camp would not be the same were it catered by anyone other than Gary. Those of you who attend any of the other BDSM/Leather Runs know this first hand. Last year, Boot Campers were of great help to Gary for which he is deeply appreciative.
With Boot Camp being canceled, I know some of you may be missing the beauty of Saratoga Springs. The good news is that Saratoga Springs is open for very small group rentals. They have set things up so that they can have a few individuals or pods, each with their separate entrances/exits, living quarters and bathrooms. You can get more details at saratogasprings.com.
I know this comes as a great disappointment for you, as it did for me. Boot Camp is my favorite week of whole year! However, I wanted to let everyone know as soon as possible, so that you can make your decisions and plans as soon as possible. I will miss you all this June, but look forward to seeing and playing with you as soon as it is safe to do so. If you have any questions, feel free to contact me through the website, and I will do my best to answer them.
The good news is that it is very likely that we will be able to go forward with Boot Camp safely in 2022, due to the vaccines and the evolving (and improving) plans being put in place at the local, state and federal levels of government. We will keep you posted.
My best wishes to each and every one of you for your health, safety, happiness and continued horniness!
In Brotherhood,
Jeff Garner
Boot Camp Committee Chairman
---
Anniversary Celebration
We are throwing online parties via the Zoom application, which have helped our Members and Guests stay connected and feel less isolated, and our next one is coming up February 27, 2021, and it will be a very special event. After a brief reception, where everyone can get into the Zoom meeting, there will be a lively presentation on 15 Association history with interviews from current and past Members. This presentation will last for approximately an hour, after which there will be plenty of time for you to interact with your 15 Association Brothers and break out rooms for special interests and kinks! I urge you to try to participate, as this allows for social interaction with your fellow 15 Association Members and Guests, as well as the opportunity for online exhibitionism and play.
---
Other News and Events
Other events of interest to 15 Association members:
Street Sex Photos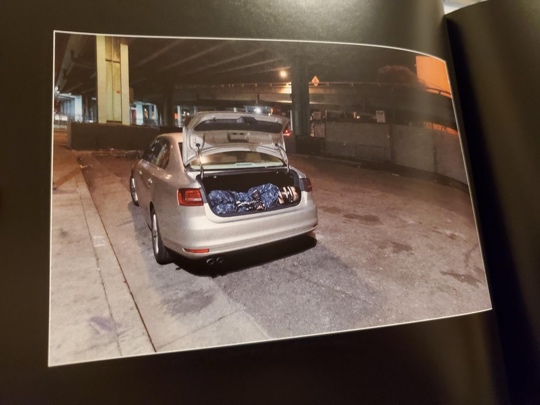 Mark I. Chester's new book features The 15 Association Members and more. Current release has been delayed so look to March for delivery!
Street Sex Photos is a 100 page 10"x8" hardback book, documenting gay men being sexual on the streets of South of Market in San Francisco. Send an email to sfphotou@yahoo.com for details on how to purchase.
Leather and LGBTQ Cultural District
Tue February 16 – 8pm — Erotic Storytelling Hour — Black Representation Edition for February
Wed February 17 – 6pm — Board of Directors meeting
More information at sfleatherdistrict.org
---
Patreons
Patreon contributions can be made to:
The Leather Journal — recording our history for over 30 years!
https://www.patreon.com/theleatherjournal
SF Catalyst — Home Dungeon to The 15 Association and new expansion opportunity.
https://www.patreon.com/sfcatalyst
---
Got News? We want it!
Do you have News or Events our members would have interest in or enjoy outside the Dungeon?! Whether you are producing an event or just attending one others may not be aware and wish to participate. Our Community has much to offer and a variety of tastes so don't hesitate to e-mail by the 25th of the month for publication in the following month's issue. Inquisitor editor: Tyler Fong tazpuppy15@gmail.com.