Stories
---
Upcoming 15 Association Play Events
Get out and play with your brothers! Mark your calendars for these upcoming 15 Association Play Events:
Sat November 18 7pm – Midnight — Play Party at SF Catalyst. Doors close 10pm.
Sun December 10 2pm – 6pm — Holiday Play Party at Blow Buddies. Doors close 4pm. FREE!
---
Message from the Chairman

Gentlemen,

I hope everyone had a great Halloween! Now we are moving into the holiday season. In our community, this can be a time of greater depression and loneliness. So I ask all of you to reach out to your club brothers and bring them into your holiday plans when you can. Many of us have had to create our own leather families of two, three, five or more... I ask you to hold a place at your table and extend your family through this season. And don't forget our club is once again hosting a free holiday play party on Sunday December 10th from 2–6pm at Blow Buddies for all of our club brothers. A little bit of sex and play can brighten any mood.





---
2018 Membership Dues
2017 is flying by and we're talking about winter holidays already. As you prepare for the festive winter season, please take a moment to log in to 15sf.org and renew your membership in The 15 Association. We hope you enjoyed some of our many events this past year, ranging from Anniversary and Members' Weekends, to our monthly play parties, to our outdoor dungeon at Dore Alley, and Boot Camp. Your fraternal committee is hard at work making plans for more in 2018!
Please go to 15sf.org and log in. You'll see a reminder to renew. Click on the link to the "Renewal Page" and fill in your information. You can use a credit card to renew on-line or you can mail in a check as you prefer.* Please don't forget to sign your release form at the lower part of the page to avoid delays entering our events in 2018.
While you're on the website, please check your information by clicking "Update Your Profile" below the 'Member and Guests' list on the home page. Correct any information that has changed or is otherwise inaccurate. Remember to go all the way to the bottom of the page to give us permission to list you in our member directory. That's where you tell us what information you want to be made available to all members.
*Please Know: We don't turn anyone away for lack of funds. If you need some assistance covering your annual dues, we can help. Indicate on the renewal page your request for assistance. If you can, please consider a donation to our charitable funds. They are how we help insure none of our brothers are left out because of a lack of funds.
— Al Parso-York, Membership Chairman
---
Help keep Leather alive in SOMA!
Space Rental: SF Catalyst, the venue that hosts the majority of The 15's play parties, features more than 3,000 square feet of dungeon, play, and social space, well-stocked with BDSM furniture. The space is currently available to rent for photo shoots, filming, art shows, gatherings, dates, life events, professional sessions, and play parties. Inquiries for renting the space may be sent to reservations@sfcatalyst.org.
---
Other News and Events
Member News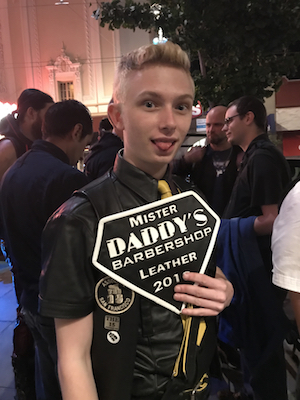 Congratulations Whisper, Mr. Daddy's Barbershop Leather 2018! He will be competing for Mr. SF Leather 2018 this coming March.
Mark Your Calendar
Other events of interest to 15 Association members:
Sat November 18 7pm – 9pm — Golden Gate Guards Anniversary at the SF Eagle. Wear your club overlay or bring invitation from the GGG.
Sun December 3 6pm – Midnight — Twisted Snowflakes: SFBALA Holiday Volunteer Appreciation party, SF Catalyst. 6pm – 9pm Food and beverages, 9m – Midnight Play time.
Got News? We want it!
News of interest to The 15 Association membership or brief articles about our members or our community are welcome. Not sure? Send it anyhow. Email Al Parso, the editor at: al@parso.us or MrACL2014@yahoo.com by the end of the month for inclusion in the following month's Inquisitor. The newsletter is usually, but not always, produced the first week of the month. Submit your articles, announcements, events or other items of interest by the end of the month for inclusion the following month. Share events of other organizations, contests in which you are participating, and other items of interest here.